Libra
Zodiac Symbol:
Scales
Birth Dates:
9/22 or 9/23 - 10/23 or 10/24
Constellation:
Libra
Nature:
Yang
Element:
Air
Quality:
Cardinal
Orientation:
Interpersonal
Season:
Autumn
Ruling Planet:
Venus
House:
Seventh House
Tarot Card:
Justice or Adjustment
Body Part:
Kidneys, Hips, Lower Back
Countries:
Austria, Japan, Burma, Tibet
Cities:
Copenhagen, Vienna, Johannesburg
Colors:
Blue, Pink, Pastels
Numbers:
6, 9
Day:
Friday
Gem:
Opal, Lapis Lazuli
Metal:
Copper
Animals:
Dove, small reptiles
Flowers:
Wild Rose
Herbs:
Violet
Keywords:
Balance, Partners
Quote:
I BALANCE
Meditation: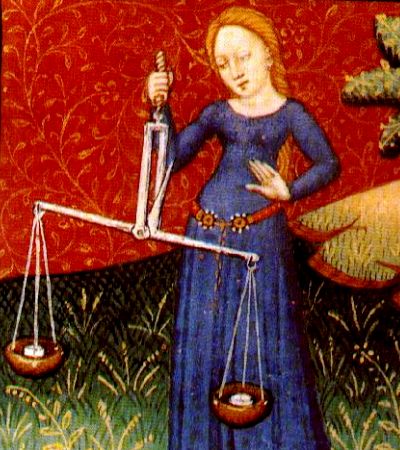 Ad blocker interference detected!
Wikia is a free-to-use site that makes money from advertising. We have a modified experience for viewers using ad blockers

Wikia is not accessible if you've made further modifications. Remove the custom ad blocker rule(s) and the page will load as expected.